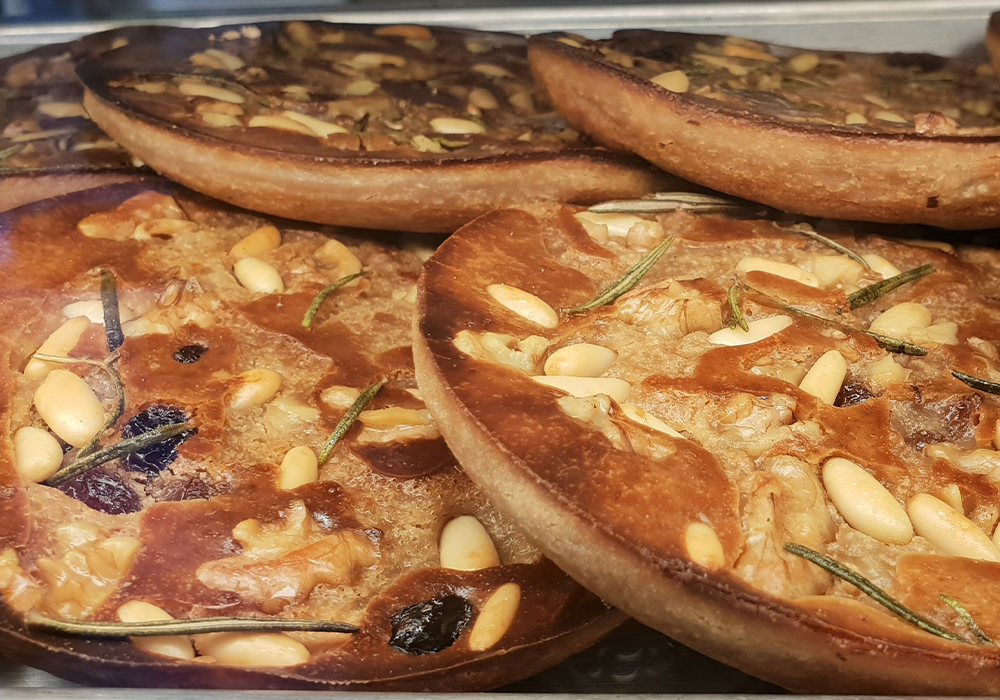 Castagnaccio (Tuscan Chestnut Cake) is a typical Tuscan recipe based on chestnut flour. It has a strong flavor, thanks to the strength of chestnuts and the presence of rosemary, even if attenuated by the sweetness of the raisins and the softness of the pine nuts. A perfect sweet alternative for those who are gluten intolerant and do not contain dairy products, eggs, or butter.

The quality of the flour makes the difference. If you love cooking, much better to try with different flours. I take it for granted that extra virgin olive oil is of high quality, but its strength of the oil will also determine the organoleptic characteristics of this dessert.

CASTAGNACCIO RECIPE

Ingredients:
400 gr

chestnut flour


40 gr sugar
a pinch of salt
600 ml of cold water
2 tablespoons

olive oil


100 gr golden raisins
50 gr pine nuts
fresh rosemary leaves

Preparation:
Mix chestnut flour, sugar, and salt in a bowl. Add the water, bit by bit, stirring to avoid lumps. When smooth, add extra-virgin olive oil to the batter and let the mixture rest for at least 30 minutes.

In the meantime, preheat the oven 180º C and soak the raisins in cold water for 15 minutes.

Pour the batter into the baking dish lined with parchment paper. It should be no more than 1-1,3 cm. Evenly scatter over the well-drained raisins, pine nuts, and rosemary.

Bake for about 30 min or until you begin to see little cracks appear all over the top. Do not overbake or it will become very dry.

Let cool in the pan and your Castagnaccio is ready to be served. Keep it at room temperature, better to avoid the fridge.


Join us on the

Instagram

page. Recipes and all-around Tuscan food and wine excellence.