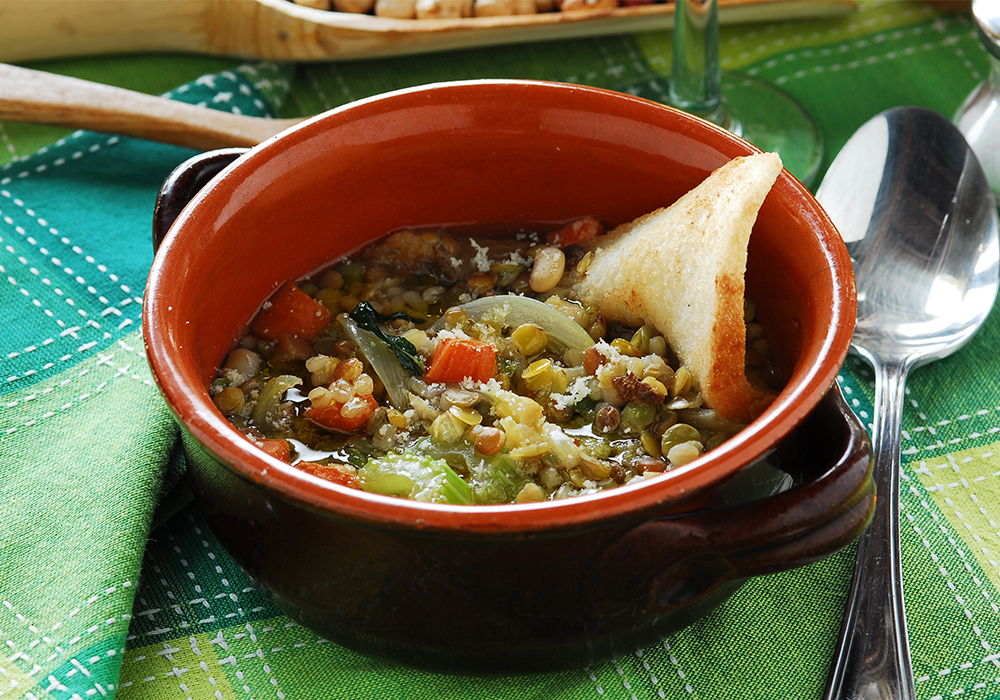 The years have made changes and simplifications to the original Tuscan recipe of this exquisite soup (which in the Renaissance included the addition of almonds, sugar, cinnamon, and vinegar). To the "modern" recipe that wants previously cooked peas and partly added whole, partly sieved, here the peas we left whole in cooking.

Preparation time: 1 hour

Ingredients:
1 kg of white onions
100 gr peas
100 gr legume puree (ex. chickling or chickpea puree)
A celery stalk
2 carrots
½ lt of chicken broth
Tuscan bread (wholemeal bread as an alternative)
Extra-virgin olive oil
Seasoned cheese

Preparation:
Chop finely the vegetables and onion and cook in a saucepan (preferably earthenware) with 4 tablespoons of extra-virgin olive oil. Sauté them slowly for about 40 minutes and take care to make the vegetables redo all their water. After 20 min. throw the peas into the saucepan, add the broth, legume puree and finish cooking. Toast the bread, place it on the bottom of each bowl, pour the Carabaccia soup over it sprinkling with abundant aged cheese such as our "Ruota del Re", "Dante", "Crosta d'Oro", "Girotondo" or "Piparellino". Finish with a drizzle of raw extra virgin olive oil.